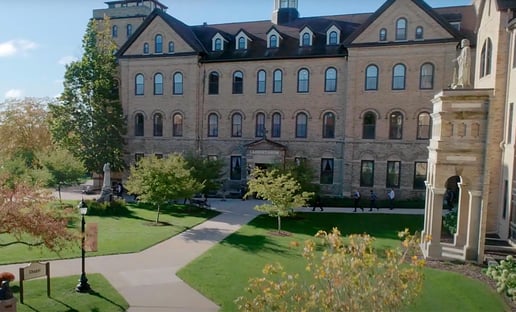 Summertime is the perfect time for a road trip. Feel the sun on your face, breathe in the fresh air, and visit the places you've been meaning to get to. And if you have a son in middle school, one stop on your list should be St. Lawrence Seminary.
You may know St. Lawrence Seminary to be the Midwest's only Catholic all-boys boarding school, known for academic excellence and a commitment to faith. But what you may not know is that it is situated on more than 150 acres of beautiful rolling hills, surrounded by many unique and interesting places.
We understand you have options as to where to send your son to high school. Significant deciding factors for families to send their sons to St. Lawrence Seminary is knowing that our students graduate as courageous and noble young men who care for others while living lives of faith. When you visit, get excited to discover what life is like at our school while feeling the positive energy around you.
And while you're in the area, take the opportunity to see some of the one-of-a-kind spots in our neck of the woods.
Feel like enjoying some hand-crafted, delicious ice cream? If so, you're in luck because the Kelley family operates a 200-acre farmstead dairy and tends to 65 Holsteins that provide the grade A milk for

Kelley's Creamery

. They have 22 flavors daily, and frequently add seasonal, specialty, and brand-new flavors. The Creamery's old-fashioned sun porch is a perfect spot to take in Wisconsin's countryside while enjoying some of the best ice cream you've ever tasted.


What is more iconic than a Wisconsin supper club? A must-experience spot is

Jim and Linda's Lakeview Supper Club

. You'll enjoy the classic menu featuring prime rib, seafood, and hand-crafted cocktails. With the dining patio 30 feet from the shore of beautiful Lake Winnebago, your three-course meal is served with an unbelievable view. As an added bonus, Jim and Linda's offers live music on the patio for its guests on summer weekends.


Don't forget your golf clubs on your road trip!

Whispering Springs Public Golf Course

is a short drive from SLS and boasts some of the best golf around. In fact, Whispering Springs has been voted the best golf course in Fond du Lac 12 years in a row and received 4.5 stars from Golf Digest's Places to Play. The onsite restaurant, the

Range Bar & Grill

will be waiting for you after you've worked up an appetite on the course.


Whether you are heading to Door County, up north, or someplace in between, a visit to St. Lawrence should be on your summer bucket list. And be sure to make the most of it by exploring our charming area.
The best way to get a feel of St. Lawrence is to walk the campus and experience what the school offers. But we know that's not always an option. That's why we've put together a virtual tour where families can explore our campus together - anytime, anyplace.
Would you like more information about St. Lawrence Seminary? Check out our website or call us at 920-753-7570.