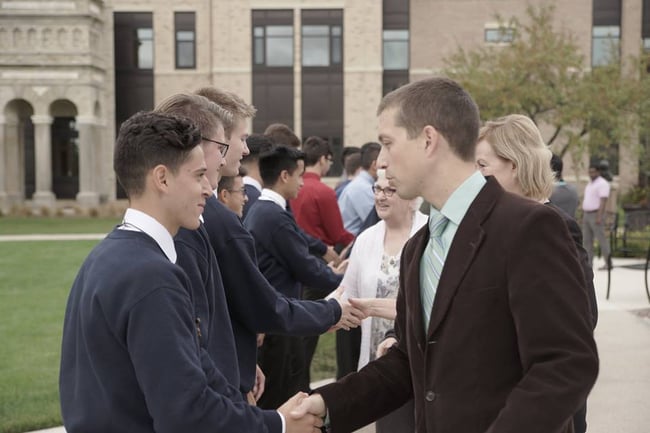 A few years ago, a senior at St. Lawrence Seminary High School was applying to the prestigious United States Naval Academy in Annapolis, Maryland. The Rector at the time helped write a letter of recommendation for him and also put him in touch with an alumnus of St. Lawrence Seminary who had graduated from the Naval Academy.
As the alumnus and senior began to talk to each other, they found a common excitement about St. Lawrence Seminary through shared educational experiences and traditions as well as a shared love for the Naval Academy. The alumnus was able to talk to the senior about life at the Naval Academy and give him advice about applying, getting accepted and eventually thriving in a military academy.
Their relationship continued as the St. Lawrence Seminary senior started his new path at the Naval Academy and has continued to this day as the student prepares to graduate from the Naval Academy.
This relationship was brought about because the Rector of St. Lawrence Seminary, the senior student, and the alumnus all understood the importance of relying on your community of personal connections.
Personal connections are one of the most important components of human life. Your network is more than just the community of people you can count on to help you find a job; it is a group of people who you can rely on for guidance, help and friendship throughout your lifetime.
What most people probably don't realize is that you can start to build your network of connections in high school. Some people think networking is silly or even manipulative and shallow. Building a network is really about realizing how important personal connections will be in your life and investing in those relationships.
Here are four ways you can build your network while in high school.
Networking with Your Fellow Classmates
Relationships with your classmates can become extremely valuable as you mature into adults and move into the professional world. You and your classmates will be joining the workforce around the same time, some taking on internships or jobs through which they may later be able to refer you for. Creating friendships now and finding those that have similar educational and career interests can be a valuable way to help each other grow successful careers in the future.
At St. Lawrence Seminary, students are placed into fraternities comprising of ten to twelve students, balanced on grade, culture, and compatibility. The core of the fraternity is the seniors and the freshmen they sponsor. Every freshman has a senior sponsor, and any new upperclassmen have a sponsor from his own grade. Through the school year, fraternities sit together in chapel, lead prayer for the entire community, participate in liturgical ministries for Mass together, and compete in social events together. This creates a strong network for students while in school and in the future.
Networking with Teachers
Every high school student knows that the faculty and staff at your school can help you with your homework, provide guidance in difficult academic times and inspire you to learn more. What high school students often forget is that teachers will eventually be writing letters of recommendations for them during college application season. It's helpful to take the time to get to know your teachers and vice versa. That way, when the time comes for Mr. Smith to write a letter of recommendation, he can speak to your character and personality in addition to what he's seen of your test scores.
It's beneficial to have a good relationship with your teachers while in school and continue them after you graduate. Your high school teachers can become mentors, references for internships and much more while you are in college. Your teachers will also greatly appreciate hearing about how you are and knowing they have played and continue to play a role in your success.
Networking at Your First Job or Volunteer Opportunity
Taking advantage of part-time jobs and summer internships during high school gives you valuable work experience (and a little spending money too). Your first job may not enable you to buy a new car or a house, but it is paving the way for your future employment. This is especially true if your first job is in the career field you are most interested in. The friendships and relationships you form with your boss, supervisor, and other employees will affect how much you learn and how easily you can transition into future opportunities.
For those who don't work, volunteer positions can offer the same opportunity to network. Through volunteering, you'll meet other volunteers as well as professionals where you volunteer. Make a good impression so they could be references for you in the future.
Networking Online
With the increase in web-based hiring, a great way to connect with professionals is through professional social media sites like LinkedIn. Connecting with others in your potential field of interest through friends or other contacts will grow your educational and professional networks. Being recognized and recommended by your peers for skills you possess and for your personal character can be an excellent help in your professional life. Even before you graduate high school, create a LinkedIn profile to list your work/volunteer experience and any other relevant information.
Growing and creating relationships and networks doesn't start when you get close to college graduation: it starts long before when you begin to make connections and friendships as a mature young person in high school. These relationships only become more important as life goes on.
Establishing relationships with your peers, teachers, fellow alumni and people in your potential career field can provide great support, friendship and growth. It can lead to quality friendships, mentorships and professional relationships in your future.
For more information about St. Lawrence Seminary and the benefits of a boarding school education, download our FREE Parent's Guide.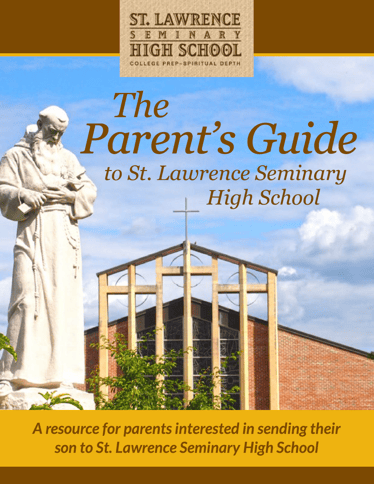 ---
St. Lawrence Seminary is an all boys Catholic boarding school located in Mt. Calvary, Wisconsin. We welcome students from the Midwest, across the United States, and from around the globe. Inspired by the Gospel of Jesus Christ and the example of St. Francis of Assisi, St. Lawrence Seminary provides a residential college preparatory education in a living Catholic community nurturing mature, well-rounded men of faith. See if St. Lawrence is right for you and your son.