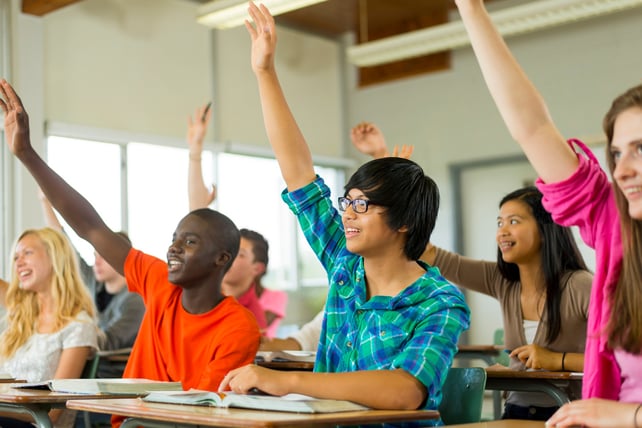 A boarding school may be an excellent way to prepare for future success in practical ways. The unique setting of a boarding school promotes numerous life skills. Many of these skills, as detailed below, are exactly the sorts of skills usable in adult life and also the kind of skills that employers look for in potential employees: being independent, working well with others, creative problem solving, being open and sensitive to a wide variety of personal differences in peers, and displaying aptitude for loyalty, dependability and competence.
Boarding Schools Teach Independence & Time Management
A boarding school can provide students with great lessons about independence. Students not only have to take charge of many tasks involving their own academic success, but they also have to take charge of their personal needs. They have to develop a sense of responsibility quickly. The boarding school environment requires a student to develop the responsibility of keeping a schedule, attending required activities, and having a sense of awareness of expectations.
Boarding Schools Teach Cooperation with Others
A student at a boarding school very quickly develops a sense of cooperation with others. Students may share a dorm with peers of many different ethnic and socioeconomic backgrounds. Because of the boarding school setting, there is a great necessity for cooperation. The school is not just an academic setting, but a home. The living environment quickly becomes intolerable if there is not a sense of community. As the campus becomes a home to students, a community can be formed. The community, however, depends on students cooperating, completing assigned jobs, and making every effort to enhance the living environment.
Boarding Schools Help Teach Basic Life Skills
So how do you schedule enough time to study? How do you balance sports, clubs, and academics? How do you do laundry? Boarding schools are uniquely positioned to answer these sorts of questions. Without close monitoring by parents, students must learn the basics of time management and balance their involvement. Other basics like doing laundry, solving everyday problems ranging from broken glasses to torn pants also become things boarding school students must deal with individually. Students learn to ask questions and think outside the box to problem solve. With the help of staff and peers, most students quickly adjust out of necessity.
Boarding Schools Help to Broaden Personal Views
A boarding school may very much expose a student to a variety of ethnic backgrounds and to peers who are very different from one another. Rather than spending eight hours under one roof with many different fellow students, boarding school students spend twenty-four hours a day with their classmates. One does not just get a flavor of another culture, race, or ethnicity. One is exposed to a broad spectrum of cultural views and grows to know other cultural and ethnic groups much more intimately. Students develop a much broader appreciation for and sensitivity to groups of peers who may have been initially seen as foreign or mysterious.
Boarding Schools Teach Communication Skills
When students at a boarding school assume responsibility for academic and social success, they must develop excellent skills in communication. Rarely can students disappear into the background, because staff members know students by name. Students can be more easily involved, challenged, and personally encouraged. Because of this more intimate setting, students learn to ask questions, express opinions, and find their voice in any number of ways. By graduation, they have acquired a set of communication skills, both interpersonal and social skills that can be used long into the future.
Boarding Schools Help to Create Bonds that Last
Being a student at a boarding school can foster ties among students that last for many years after graduation. Because the setting is more family-oriented, very strong bonds of friendship not only form but grow and develop. Many students view their peers at boarding school more as siblings than as temporary acquaintances.The connections formed between students and staff members can be equally significant, as the round-the-clock setting enhances the fostering of healthy student-adult relationships. Students are not left to fend for themselves but can be assured of the help, guidance, and encouragement offered by members of the faculty and a competent residential and support staff. All these factors help create lasting bonds among students.
A boarding school can help prepare students for their future education, careers, and social interactions in ways that are unique and extremely beneficial to young people. The setting of a residential school offers students an opportunity to foster independence, cooperate with others and practice basic life skills as well as broaden a student's mind to many other experiences. A boarding school can also sharpen one's communication skills, but perhaps most importantly, especially to teenagers, a boarding school can create social ties that bind and last a lifetime.
---