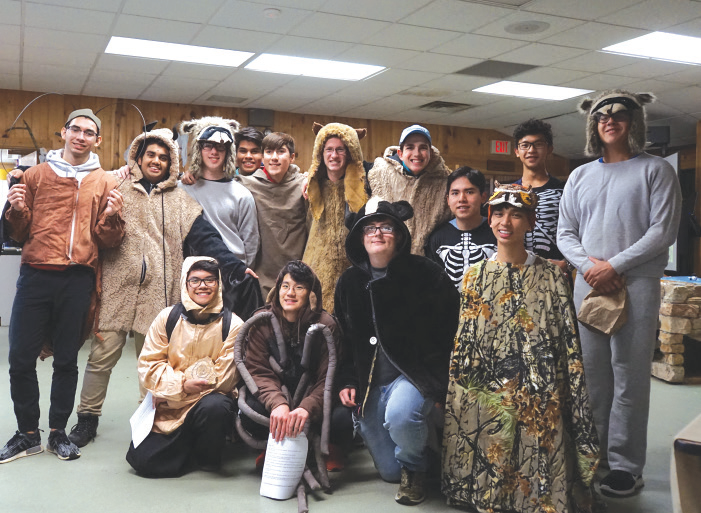 The following blog comes from one of our students and was originally published in an issue of Hilltopics.
Seniors at SLS provide assistance to the areas near campus in many different ways, which the Halloween Cave Ministry, offered again this year, is a prominent example. The Ledge View Nature Center in Chilton is the location for this special occasion. It frequently holds tours of its caves and surrounding area to the public and SLS has taken field trips in the past to partake in the tours.
The seniors helped with constructing the tours in a wide variety of ways, however, most of them put on animal costumes and acted out informational scenes and skits for the children in the nature center. The costumes worn by the seniors ranged from raccoons, to snails, to spiders and owls. The skits and scenes explained the role the animals in the natural area. The seniors were stationed in groups so that they could create a more immersive and enjoyable experience for the children. Some Hilltoppers acted as tour guides and lead the children throughout the nature center. Senior Eneo Tech commented, "It was very cold and dark, but the joy that the children had from the experience really made my day." The Hilltoppers' hard work and sacrifice really paid off at the end of the day.
---
St. Lawrence Seminary is an all boys Catholic boarding school located in Mt. Calvary, Wisconsin. We welcome students from Minnesota, Illinois and across the United States. Inspired by the Gospel of Jesus Christ and the example of St. Francis of Assisi, St. Lawrence Seminary provides a residential college preparatory education in a living Catholic community nurturing mature, well-rounded men of faith. See if St. Lawrence is right for you and your son.