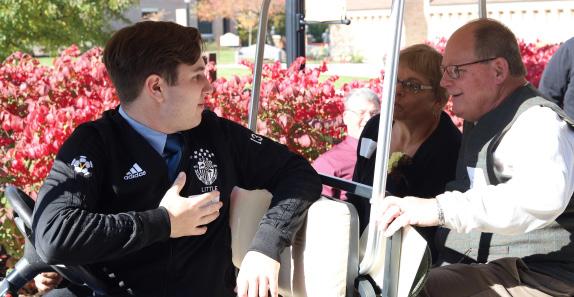 The following blog comes from one of our students and was originally published in an issue of Hilltopics.
Carrying on with the tradition of the past 20 years, Saint Lawrence Seminary held its Benefactors' Open House on Sunday, October 20th. This year, about 30,000 invitations were sent out, with a turnout of around one hundred-ten, including many former students. The invitations were specially made with an image of this year's seniors holding signs inviting the generous benefactors to "come and see" what they are contributing to. The benefactors, the SLS staff members, and the student body are three components of a sublime and harmonious SYZYGY. Beloved benefactors, you are the heroes that Hilltopics has chosen to represent through its theme for Issue II.
As the benefactors began to arrive they were greeted with a name tag and corsage. They then attended a beautiful liturgy with joyous singing from the Saint Lawrence choir. As the celebration came to an end, the generous contributors were invited to lunch and were taken on a golf cart tour of the campus led by the seniors. Some of the most popular locations were the new buildings, and the dorms in particular. "Giving tours to the benefactors was great because I was able to talk to them and it really made me appreciate them and what they do for us," said senior Dominic Nguyen. After the tours and some socializing, the benefactors headed home.
These benefactors are an amazing blessing to the school, providing around ninety percent of Saint Lawrence's funding. "If it weren't for benefactors, St. Lawrence wouldn't be possible," said Mr. John Riss, one of the organizers of the event. The funding from the benefactors allow many of the students to have the chance to attend the school. This is why they appreciate the benefactors through events like this, or in other forms as simple as praying for them and their intentions on Friday mornings, or even just sending them a birthday or Christmas card. Overall, this benefactors weekend was a great success, a time to appreciate and meet some of the people who make our Hill possible.
---
St. Lawrence Seminary is an all boys Catholic boarding school located in Mt. Calvary, Wisconsin. We welcome students from Minnesota, Illinois and across the United States. Inspired by the Gospel of Jesus Christ and the example of St. Francis of Assisi, St. Lawrence Seminary provides a residential college preparatory education in a living Catholic community nurturing mature, well-rounded men of faith. See if St. Lawrence is right for you and your son.