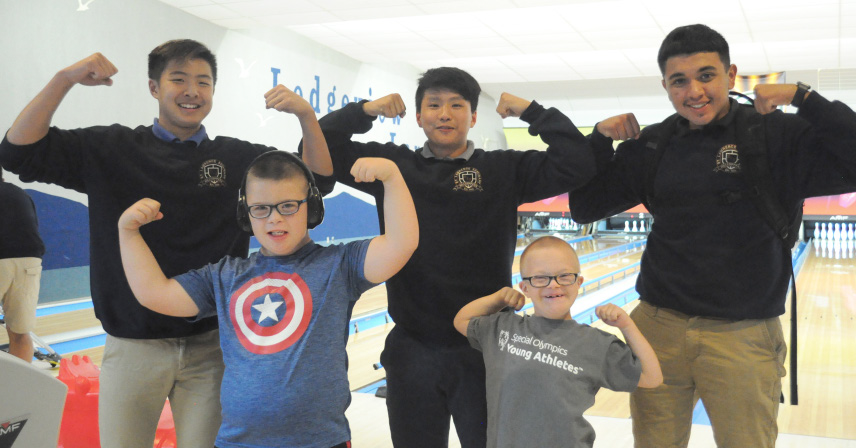 The following blog comes from one of our students and was originally published in an issue of Hilltopics.
Throughout the year, SLS students have to complete a specific number of ministry hours. In order to graduate, seniors have to complete 30 hours throughout the year. There are many opportunities to accumulate these hours and one of the most popular opportunities is an event called Special Olympics.
The event is organized by a group called Arc of Fond du Lac. Arc is an advocacy group who helps people with mental and physical disabilities. The program is designed to create an opportunity for the challenged individuals to socialize and be active every week. The SLS students are there to simply cheer on the athletes, which raises their self-esteem. The students enjoy seeing the athletes there every week.
Senior Kha Nguyen stated, "I love to see them get a strike and get all happy." The athletes love it too: they enjoy being cheered on by their new friends and overall just having fun. Senior Long Do said, "I love working with the athletes, they have so much loving energy. It's fun to cheer them on and see them smile." The students do a great job of setting a good example and encouraging the athletes. It goes to show a little bit of kindness goes a long way.
---
St. Lawrence Seminary is an all boys Catholic boarding school located in Mt. Calvary, Wisconsin. We welcome students from Minnesota, Illinois and across the United States. Inspired by the Gospel of Jesus Christ and the example of St. Francis of Assisi, St. Lawrence Seminary provides a residential college preparatory education in a living Catholic community nurturing mature, well-rounded men of faith. See if St. Lawrence is right for you and your son.