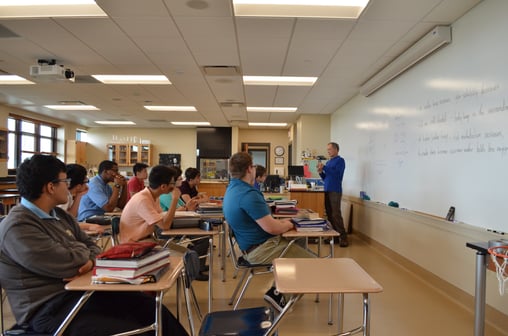 It can be a challenge for high school students to stay on top of their academics when they are continuously trying to balance a social life, extracurriculars, and life at home. However, there are plenty of easy techniques that students can implement into their routine to guide them to continuously reach success in their high school careers.
Below are some tips and tricks that any high schooler can utilize in order to effectively balance their academics!
Manage Your Tasks with a Daily Planner

Before a student walks into school each morning, it's important to make sure that they're prepared for the daily tasks at hand. Using a daily planner can not only help students keep track of assignments but can enable them to stay organized — so that they can manage their time more adequately.
Along with writing homework assignments down, it's important to make sure that they're consistently checking a personal planner to see what else is on their to-do list. It can be helpful to allocate a specific time period for each task or assignment that they need to complete. If they're not able to finish the assignment in the time provided, they can work on something else and come back to the unfinished work later!
Being able to complete a task and checking it off of a list can help a student feel accomplished and provide them with the motivation to continue completing the items in their agenda.
It's also important to keep all homework assignments organized so that they can be easily found on a day-to-day basis. A folder for classes or a binder with dividers for different subjects can allow students to find items quickly and easily.
Be Prepared Beyond Assignments
There is more to being ready for the classroom than completing assignments. If a student comes across something that they don't understand, it's important to write down any questions they may have about the subject and discuss it with a teacher in class when they get a chance.
If your student finds that they don't have homework for a class before the next period, they should be in the habit of working to review previous material and preview the next section of material the class will cover. This will allow them to be thoroughly prepared for each class.
Finding Optimum Study Strategies
There are countless methods students can use to study more effectively. Many times, students best retain information when engaging in active studying. This can be done by compiling and completing practice questions and using flashcards. Along with traditional paper cards, there are digital apps and online programs that can be utilized to help your student study for that next quiz or test.
Audiobooks are another great studying tool if you have a child who is an auditory learner (a learning style where an individual must hear information to better retain it). Audiobooks are especially useful when a child struggles to understand a specific passage of text. Group study sessions are also a great option and give students the opportunity to discuss different ideas with their peers.
Use Effective Reading Strategies
The next time your student has an assignment, it may be helpful to keep a journal and pencil handy so they can write down the most important information in the text and any possible questions they have.
Not only can this help them focus on what they're reading, but it can ensure that when it comes time to ask questions in class, they won't forget theirs.
Learn Self-Discipline
Students can accomplish more in school when they're able to effectively execute self-discipline. One of the best ways to accomplish this is to treat each new class period as if there were going to be a test. This way, students will be able to have a longer period of time to prepare and won't have to worry about trying to cram a lot of information in a shorter timeframe.
Benefits of Co-Curricular Activities

Many parents are under the impression that they shouldn't encourage their students to participate in extracurricular activities because it may hinder their ability to study effectively and do well in their courses. However, many studies have found that there are
multiple reasons why being an athlete can benefit students inside and outside of the classroom.
Participation in a wide range of activities can also help students learn to budget their time, practice collaborating with others, and refine leadership skills.
Often times, top universities want to see applicants who have engaged in a variety of activities during their high school career because they understand and believe in the benefit of these undertakings that well prepare a student for college.
Here at St. Lawrence Seminary High School, we provide a college preparatory education in a living Catholic community that focuses on nurturing well-rounded men of faith. We consistently encourage active involvement in co-curricular activities and provide many ways for students to stay engaged and connected with our community.
---
Interested in learning more about what it would mean to send your son to boarding school for high school? We invite you to download our free resource: The Boarding School Decision Guide!