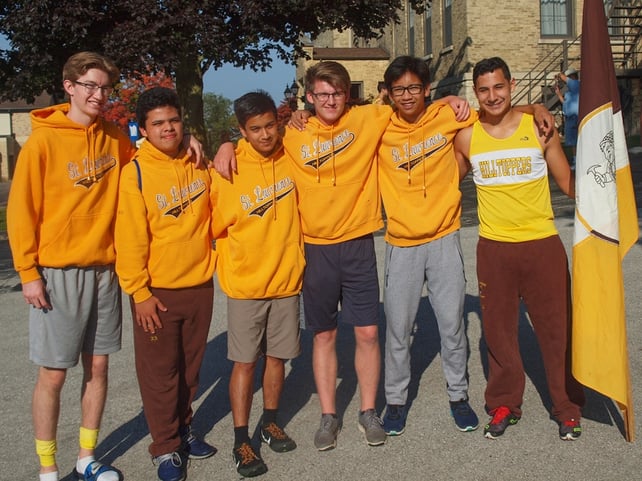 When choosing a high school, it has become somewhat counter-cultural to consider a boarding school. In today's society, families more often want to remain close to their children and more directly involved in their daily lives. However, there are many reasons for and benefits of choosing St. Lawrence Seminary High School.
Many schools provide students with academic challenges that will help them succeed in higher education, and there are others that provide students with faith-deepening experiences. Being a residential school helps to set St. Lawrence Seminary High School apart from other schools that attempt to achieve those purposes in a day-school setting. The program at St. Lawrence is meant to engage students holistically — looking at every part of the child and working to nurture their development.
Our program focuses on developing the four main components of our students' lives: academic, residential, co-curricular, and spiritual.
St. Lawrence has a dedication to academic excellence.
Students are challenged academically each day in their classes, as the college preparatory curriculum is focused on preparing students for success at the next level of their education.
So how do we do that? Well, it goes further than rigorous coursework and college credit classes. The teachers' commitment to helping students succeed is one of the major ways we prepare students for college upon graduation. Before school, after school, evenings, and weekends, it is not uncommon to find teachers engaging in individual tutoring or even group study sessions, because as a boarding school, access to the students is possible at all of those times.
That we are a boarding school also means that supervisors are able to check in on a student's homework in the evening. Study halls for each grade level are provided as quiet places to study whenever they're needed. These are just some of the benefits of living where you also attend classes.
St. Lawrence's residential setting is diverse.
The residential portion of St. Lawrence's program prepares students for life in a practical way. Bringing together a diverse population gives students the experience of living with people who are sometimes very unlike themselves. Our dorm supervisors work to build class camaraderie through socials and other class activities. Living together helps students build meaningful and lifelong relationships with people from across the country (and globe) whom they may never have befriended in any other setting. This also mirrors the experience of living communally that they'll likely experience in college.
How do we help these kids to live together? Some of that is through SLS's social skills program, which teaches them to live in community by building their moral character and integrity.
Students are taught skills in their guidance courses, and these skills are implemented throughout our campus. Keeping our expectations for behavior high in the dorm, the gym, the classroom, and beyond helps us to reinforce the attitudes and actions that will lead to our students' success throughout their lives.
St. Lawrence offers co-curriculars like sports and clubs.
Like other schools, St. Lawrence offers a range of co-curricular sports and activities. While a student's choices in activities at home may be limited by his parents' ability to juggle scheduling and transportation, those aren't concerns at a boarding school. Students are supported by a range of coaches, club advisors, and moderators, and they're only limited by their own interests and willingness to get involved.
On any weekend, students could find themselves heading to other schools for a sporting competition, to a movie at the theater, on a trip to an art museum, or to a local mall for some shopping. If they don't want to leave campus, they might find themselves working out in the fitness center, bowling on the lanes in our gym, meeting with our reading club, or enjoying a pickup game with other students. It's not hard to fill the hours in the day.
St. Lawrence values its students' spiritual growth.
Building our students' understanding and practice of their faith and spirituality runs deeply throughout all aspects of the program. One unique trait of St. Lawrence is that the student body is 100 percent Catholic. Because students live on campus, they are able to participate in a wider range of faith-based activities, including Mass three times a week, daily morning and evening prayers, as well as special presentations and speakers. Students are charged not only with learning about but also living their faith.
Through the spiritual direction program, students explore how God is working in their lives. Through specialized training programs, students are tasked with active participation in various roles of the Mass. Through our numerous ministry opportunities, students are challenged to be the face of Jesus to people everywhere. Walk into a classroom at SLS, and you will often find the teacher connecting their content to the tenets of the faith. Walk the halls, and you'll find the religious iconography reminding students of the greater purpose of their education at St. Lawrence — to build the Kingdom of God.
Just because students have chosen to attend a seminary, though, doesn't mean they have to become a priest. Our program works to develop young men who will live out their faith throughout their lives, whether that is in direct service to a religious vocation or a lay calling. Our goal is to help students realize just what their options are and what God's call is for them.
Though they live away from home, their parents are integral to their student's success at SLS. From care packages, to reinforcement of the expectations, to spiritual and social guidance, SLS acknowledges the significant and necessary contributions of parents in raising their children — really we are simply partnering with parents in the development of their children.
So, how do we know it works? The proof stands in the students who we are so blessed to witness growing from young boys into the future of the church and the world. Do we form young men to be leaders in their chosen fields — medicine, law, religious life? The answer is absolutely, but our success goes beyond that. We know it works because we see them return as men of faith and knowledge who are concerned for the development of the world they live in. And they help to continue the legacy of St. Lawrence Seminary by sending their sons, brothers, cousins, and friends to experience the benefits of our one-of-a-kind boarding school. Based on many of the values espoused in society today, being counter-cultural, as demonstrated by the program at St. Lawrence Seminary High School, can actually be a blessing.
---
Are you a parent considering sending your son to St. Lawrence Seminary High School? We know that there are a lot of questions and concerns that go along with this decision, and that's why we've put together a comprehensive guide outlining what you, as a parent, need to know about SLS.