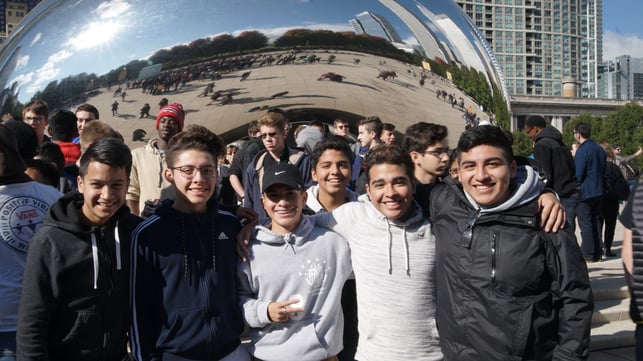 Summer is the best opportunity for students to relax and enjoy time off from school. This highly anticipated time of year is the perfect excuse for teenagers to do whatever they like, which can often lead to a lot of unproductive days.
There are many fun and beneficial activities for students to involve themselves in over the summer that can help them develop useful skills while also enjoying their break.
Note: We invite you to Light on the Hill, St. Lawrence Seminary High School's blog targeted at prospective and current St. Lawrence students (and their parents!).
Below are seven summer activity ideas that your teenager can utilize to inspire learning during the summer months!
1. Volunteer in Your Community
Volunteering can help broaden one's perspective and develop a better understanding of responsibility.
Volunteering over summer break is an excellent way for students to engage in selfless acts and gain a better appreciation of people from all different walks of life. Dedicating time to volunteer activities such as helping at a nursing home, giving tours at a local museum or community center, or lending an extra hand at an animal shelter can create a sense of gratefulness and appreciation for the little things your teenager has.
2. Enhance Your Knowledge by Reading
Independent reading during the summer provides a good foundation for your child to continue gaining knowledge in a fun and flexible way.
You can get your teen a membership at your local library, where often times they have summer reading programs. Whether they're into reading books, journals, magazines, or blogs, reading can be a useful tool to help improve concentration and to inspire positive thinking.
3. Intern for Some Professional Experience
Internships provide incredible work experience for teens looking to begin working in any type of career field. Not only will they learn valuable life skills to add to both their college and professional resume, but internships allow students the opportunity to connect and form relationships with other adults.
Strong communication skills will always be useful in personal, professional, and academic settings.
4. Pursue a Paid Work Position
Pursuing a paying job can be one of the most productive activities a teenager can do over the summer. A paid work position can teach the value of money by encouraging hard work in order to get paid.
There are many great jobs available that don't necessarily require a lot of previous experience, like bagging groceries, cutting lawns, dog walking, or babysitting.
5. Play a Sport
Not only do sports camps allow your teen to continue playing their favorite sport, but they also allow them to exercise in an enjoyable way. Sports camps can teach the importance of team building, communicating with others, and leadership skills. Excelling in sports can also provide the possibility for future college scholarships.
6. Learn a New Language
Learning a language only gets harder the older you get. Spending some summer months learning to speak a new language could open numerous doors for career or travel opportunities in the future. With the technology available today, beginning to learn a new language can be as easy as downloading an app or taking lessons through an online course.
7. Learn a Life Skill
It's never too early to learn some essential life skills that can help your teen during their high school years and beyond! Learning basic housekeeping skills, how to cook, and how to budget can provide young people with skills that are extremely useful as they continue to grow up and transition into adulthood.
There are a multitude of ways in which your teen can stay active and continue learning this summer. By continuing their education in a variety of ways, students don't have to swap fun for learning.
---
Are you interested in sending your child to boarding school for high school? Check out St. Lawrence Seminary's Boarding School Decision Guide.