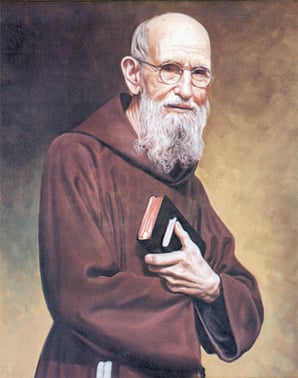 On November 18th, a caravan of busses will bring the students of St. Lawrence Seminary to Detroit, Michigan. At Ford Field, the home of the Detroit Lions, they will join an expected 60,000 people at the stadium, but they won't be cheering for a football game.
They will be participating in an occasion much more rare than an NFL football game. They will witness something that has happened only once before in history: a man born in the United States will be beatified by the Catholic Church. That man is Fr. Solanus Casey.
The Bridge Between Fr. Solanus and St. Lawrence
Fr. Solanus's connections to St. Lawrence Seminary stem back to his birth in 1870. Fr. Solanus Casey was born Bernard Francis Casey on Nov. 25, 1870 on a farm near Oak Grove, Wisconsin along the Mississippi River. Fr. Solanus also belonged to the Capuchin Franciscans, the order that owns and operates St. Lawrence Seminary High School.
If you're interested in learning more about what it means to attend a faith-based high school, check out our blog about it here!
However, even though he was born in Wisconsin and was a Capuchin, in some ways, Fr. Solanus's life might seem quite distant from the lives of the students of St. Lawrence Seminary. Fr. Solanus was born in the 1800's and students the at St. Lawrence were born in the early 2000's. Fr. Solanus was born to a farm family – many of our students live in a more urban environment.
In fact, Fr. Solanus's story is, in some ways, quite an improbable one for someone who would someday be known for his holiness. Fr. Solanus held a variety of jobs: lumberjack, hospital orderly, prison guard, and streetcar operator. This last job gave Fr. Solanus the push he needed to pursue a priestly calling. He was driving his streetcar in a rough section of Superior, Wisconsin, when he witnessed a drunken sailor stab a woman to death. This seems to have been the impetus that started Bernard Francis Casey (who would later become Fr. Solanus) toward the priesthood.
The Road to Priesthood Was Not Easy
Like some of the students at St. Lawrence, Fr. Solanus struggled with the language of instruction. At St. Lawrence, the language of instruction is English, a second or third language for some of our students. When Fr. Solanus entered St. Francis Seminary in Milwaukee to prepare to be a diocesan priest, he found that the classes were taught in two languages, German and Latin, both foreign languages to him. Because of his difficulties with the diocesan priesthood studies, Fr. Solanus was encouraged to join a religious order. Eventually, he went to Detroit to seek out the Capuchin Franciscans and he was received by them in 1897.
Fr. Solanus continued to struggle academically, so when it came time for him to be ordained in 1904 by Milwaukee Archbishop Sebastian Messmer, he was ordained as a "simplex" priest. This meant that he had permission to say Mass, but not to hear confessions or to preach on the scriptures. In the same way that Fr. Solanus turned his witnessing of a murder into a spur for him to help others through the priesthood, Fr. Solanus took what might seem like an impediment into an asset.
He did this by not focusing on what he couldn't do, but rather by concentrating on performing the simple duties of porter – doorkeeper – in such a memorable way that people came to the door just to see him. Fr. Solanus had a simple way of encouraging, listening to, and comforting people that brought him quite a reputation. This was especially true during the many years that he spent in Detroit. In fact, more than 8,000 people attended his funeral.
Thus this "simple" priest followed the "simple" St. Francis, whose order he joined. Shortly after he died in 1957, the Capuchin Minister General called Fr. Solanus "…an extraordinary example of a true Capuchin and a replica of St. Francis."
By fulfilling his humble mission as a comforter to those in need, he became a man that Pope St. John Paul II declared Venerable and Pope Francis determined to have fulfilled all the requirements to be named as one of the Blessed of the Roman Catholic Church. He is only one step away from being declared a Saint.
The students of St. Lawrence Seminary High School will witness an event of historical significance on November 18th. Perhaps they will see a little of themselves in this simple man who faced struggles and made his ordinary life heroic as he followed the way of St. Francis. The many St. Lawrence students who participate in St. Lawrence's music program may enjoy the fact that this man, who may someday be a saint, enjoyed singing and playing the violin. A saintly voice? Well, stories survive that sometimes fellow friars turned up the radio so as not to have to listen to his raspy singing voice. A saint? Maybe someday. But also a real human being – the soon to be Blessed Fr. Solanus.
---
Are you interested in learning more about St. Lawrence Seminary High School or what it's like to attend boarding school for high school? To further assist you and your son with his high school decision process, please send us a message! A school representative will reach out to you shortly.