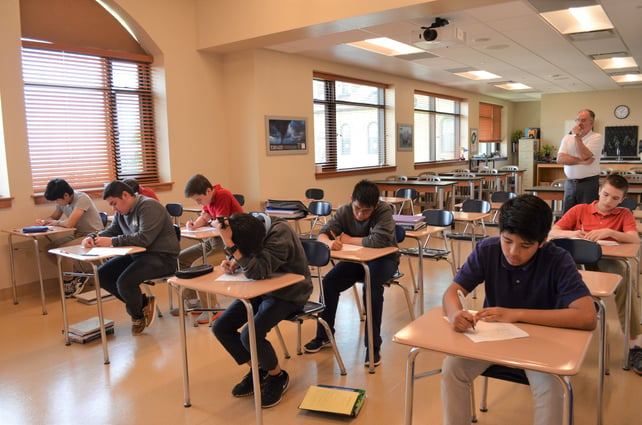 One of the ways that St. Lawrence Seminary High School knows that it is effective in developing its students is through the success of our alumni.
From being well prepared for their freshman college courses, to their successful entrance into the world of their careers, to their continued involvement in the church, it is clear that SLS alumni are inspired and motivated by their time on the Hill.
This isn't accidental. It is intentionally cultivated through the school's programs and offerings.
Forming the Foundation
From the start of a student's time at SLS, there is a program in place to engineer experiences that build on the foundations of their faith, academic, and social lives.
All students are paired with a faculty/staff mentor who works with them throughout their year — supporting them in academics and serving as a sounding board for any issues that arise. This is especially emphasized with the freshmen as they acclimate to the school's culture; this formal structure allows each student to be guided by an adult advocate and helps them to build strong relationships over the course of the year.
Additionally, all students are able to participate in our spiritual direction program, which promotes the students' consideration of their prayer lives, their faith experiences, and God's call in their lives with a trained spiritual director.
As students grow in maturity and experience, our program permits them more independence and responsibility. While freshmen and sophomores find their schedules more structured and their instruction in social skills more direct, these develop their ability to independently manage their time in their junior and senior years. As they gain that independence, however, they also gain increased responsibilities in leading their fraternities, in completing their coursework, and in modeling for younger students.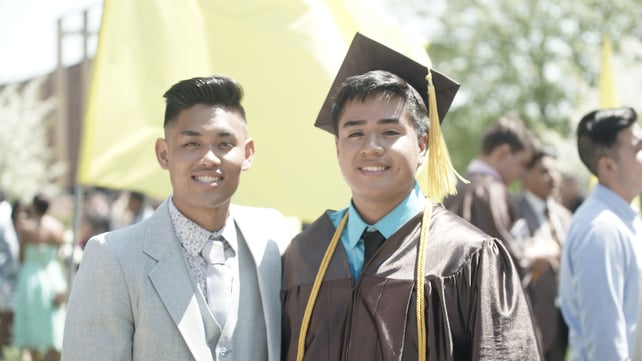 Building Men of Character and Confidence
SLS's social skills program teaches students cordial conduct that is useful throughout the rest of their lives!
One of the regular compliments faculty and staff receive when they accompany students off of the Hill for field trips, ministry, or even doctor's appointments is how polite, well mannered, and engaging our students are. This is a reflection of the high expectations the staff have set and the students' willingness to employ those skills beyond the classroom and the Hill. Being considered a gentleman is a remarkable complement in today's culture and one we are proud our students so often receive.
Beyond the classroom, students are given the opportunity to explore their likes and dislikes and to develop their personalities in a safe environment. Students are challenged to make friends with people they might not encounter in their daily lives back at home — by living together in the dorms, sharing meals together in fraternities, and working together in extra-curriculars.
The sports and club programs offered at SLS also allow students to explore their talents and interests — whether they want to play a sport (like soccer or tennis), join an intramural (like volleyball or bowling), participate in a club (like International Club or Cooking Club), or develop their artistic talents (like in band, choir, forensics, or theater) — there is something for everyone. Those who get involved find those to be some of their most meaningful experiences!
All of the experiences a student has on the Hill are meant to enrich their lives off the Hill.
They don't stop being a Son of Calvary because they leave the Hill, and the experiences they have here very clearly guide the steps they take after graduation. Their participation in our spiritual life sows seeds of faith that don't always fully blossom while on the Hill but very often germinate throughout their lives. The residential program develops our students' social skills, allowing them to seamlessly integrate into the broader society and even to stand out as men of moral character once they've left the Hill. Our co-curricular program lets them explore where their interests truly lie so that they may cultivate and use their talents to the fullest for the good of their communities.
Going beyond the books is fundamental to SLS's program — it's at the core of who we are — and it's responsible for the success of our alumni in their lives beyond the Hill.
---
Are you interested in sending your child to boarding school for high school? The Boarding School Decision Guide was created by the St. Lawrence Seminary High School Admissions team with parents like you in mind. St. Lawrence knows that choosing to send your son to boarding school can be a difficult decision, but this guide will help answer your questions and relieve your concerns.