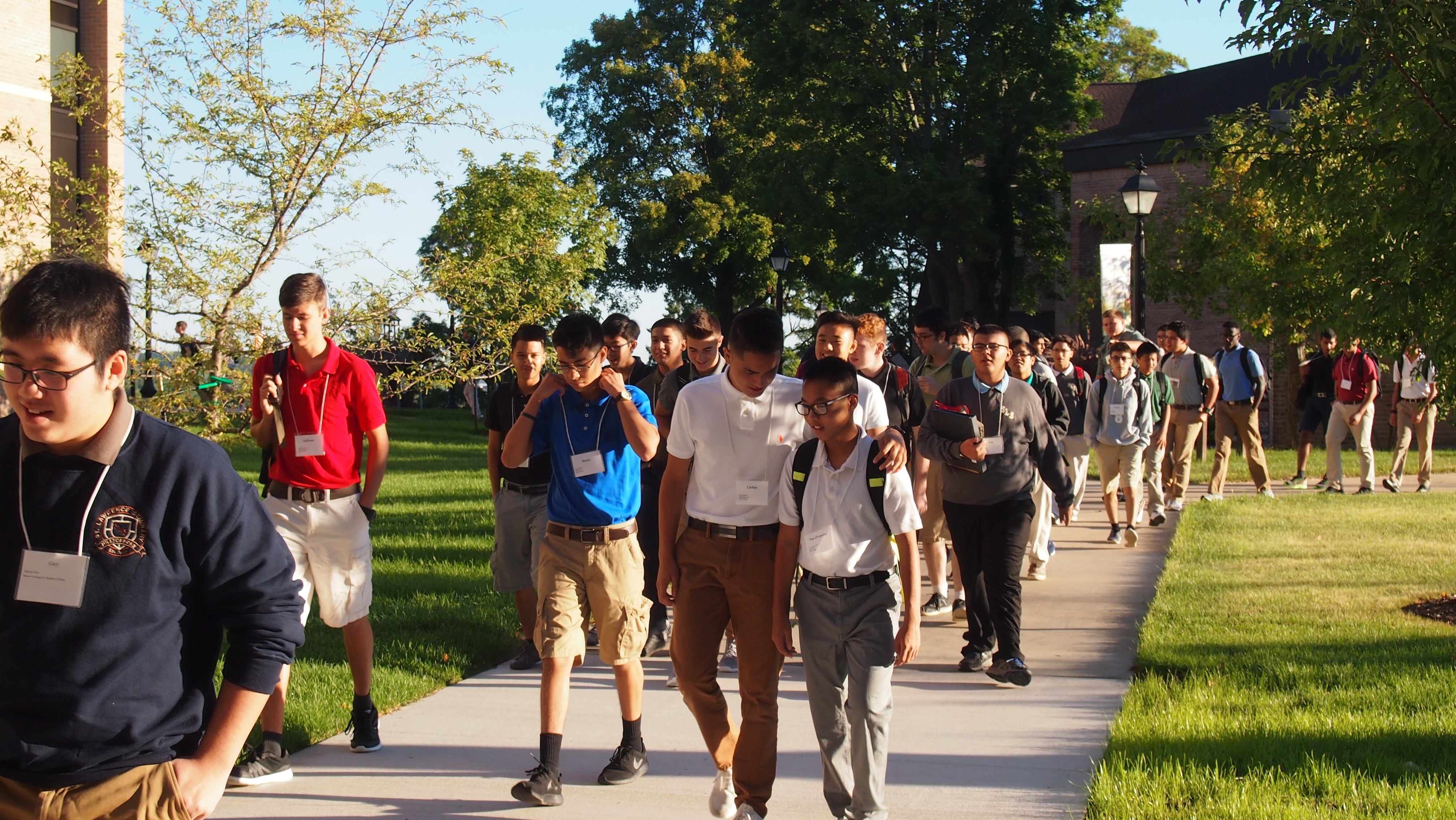 When you ask what makes St. Lawrence Seminary special, you are likely to get a range of answers, depending on who you've asked. But nearly every answer will lead you back to SLS's Mission and Values. These core beliefs are at the heart of every rationale, decision, and aspect of our program. Over the course of two, three, or four years, boys who are daring enough to embrace our program grow into impressive young men of faith. We ask a lot of our students, but we work to instill in them the tools they need to live these core values of St. Lawrence Seminary.
Spirituality: Fostering a relationship with Jesus that directs a lifetime
This value is at the core of a student's life at SLS. From his involvement in Mass, to being taught different ways to pray, to spending time in retreat, each student is given the tools, time, and encouragement needed to foster and develop a personal relationship with Jesus. At any time on campus, you may find a young man in conversation with his spiritual director, praying in the chapel on his own, or beginning each class with prayer. In a world that so often turns away from faith, our program allows, aids, and expects students to develop theirs.
Knowledge: Pursuing academic, moral and spiritual depth
In our world of 24-hour access to information and entertainment, it is becoming increasingly difficult to instill true depth of thought and understanding. It is a challenge that all educators face, and it is one that SLS confronts directly. Our program dares our students to become life-long learners, encouraging them to not only learn the content of a course but to learn how to ask critical questions that lead to deeper engagement. Whether it is exploring the depths of an academic subject, contemplating the morality of modern society, or deciphering God's call in his life, students at SLS aren't allowed to float at the surface. They must be willing to dive deeper and form clearer understandings of thought-provoking subjects.
Social Skills: Interacting in an effective, positive and respectful manner
Simple acts—like holding doors open or removing hats within buildings—to more challenging ones—like accepting "no" for an answer or learning how to question an authority figure properly—are skills that benefit students throughout their lifetimes. But they aren't innate in teenagers. They have to be taught and nurtured and that is the heart of our Social Skills program. From freshman year through senior year, students are taught the skills they need and are then held to high expectations in applying them in every facet of our school's program. As students develop, they take on leadership roles regarding our social skills—as seniors mentor our freshmen in the program, helping to positively develop SLS's culture. And the results speak for themselves. Our students are regularly singled out as some of the politest, most well-mannered, gentlemanly high schoolers that many people have ever met. These skills will serve them well in a world where such behavior is often lacking.
Diversity: Building fraternity and community by respecting and celebrating uniqueness
The school's ethnic diversity is among its most celebrated qualities. On a small hill in the middle of rural Wisconsin, lies one of the most diverse assemblies around. Traditionally 30% Hispanic, 30% Asian, 30% Caucasian, and 10% other or mixed races, students get to meet, live with, and, most importantly, become brothers to young men from across the globe. Students experience cultural celebrations like TET (the Lunar New Year celebrated in many Asian countries), the feast of Our Lady of Guadalupe (celebrated throughout many Hispanic countries), and the Cultural Heritage festival (that celebrates each student's unique background). Through our fraternity structure, our dorm arrangements, and our intentionality in fostering community, our students come away with a truly global perspective from a much younger age than possible in many schools. It is a unique community that works to instill understanding and brotherhood, truly representing the universal Church.
Humble Commitment: Serving by sacrificing for others
Ask students what their most powerful and cherished memories are of their time at SLS and many of them will describe their ministry opportunities—like working with those with intellectual disabilities, to rehabbing homes in urban Milwaukee, to serving the disenfranchised at soup kitchens and food pantries. Students move beyond regular "community service" experiences and instead develop relationships and deeper understandings of the challenges that others face. While there are minimum service hour requirements, it is rare that those are not dramatically exceeded, and through first-hand experience students come to the unique understanding of how to respect all people.
Safe Community: Providing the physical and emotional freedom that assists learning, growing and exploring
One of SLS's top goals is to provide for the safety and well-being of students physically and emotionally. From structured activities, to consistent supervision, to direct teachings and consequences, students live in a safe community that allows them to make mistakes, learn as they grow, and live together peacefully. Our students come from all over the country and the world, and, no matter their home experience, living with so many other teenage boys is bound to create conflict at times. But with all aspects of our program, the students are well equipped to cope with their differences and conflicts to build a community that supports all.
Understanding what makes SLS so special requires an exploration of each of the values that we cherish. Intentionally living out safe community, humble commitment, diversity, social skills, knowledge, and spirituality is what makes an SLS student stand out in all the best ways. These values equip them to grow and thrive not only at SLS but also in the wider world where they can continue to demonstrate the Calvary spirit throughout their lives.
---
If you are interested in learning more about how St. Lawrence Seminary High School works to help students grow into well-rounded men of faith and have an opportunity to visit campus and get to know the staff, we encourage you to sign up for our spring Day of Discovery on May 6, 2018.