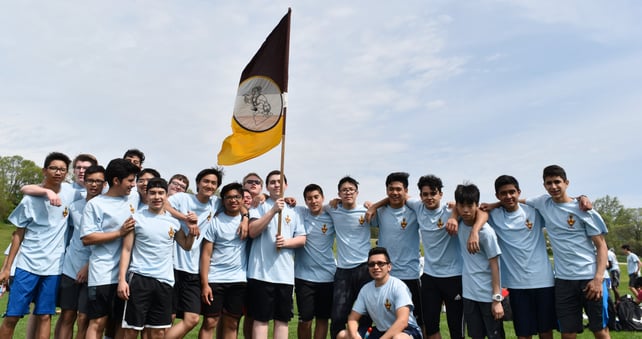 Students experience a range of emotions when they are informed that they will be attending St. Lawrence for high school: hesitance, excitement, indifference and hopefulness.
Here at St. Lawrence, we know that leaving home at such a young age can be an intimidating thought, but most students find that they quickly overcome homesickness and are soon highly involved in campus and ministry life.
One student says, "I was kind of hesitant coming to SLS, mostly because I would have to live here. I still came here because I knew that my rational for missing home was being blown out of proportion and that it wouldn't be a bad thing." That student soon found himself feeling right at home at St. Lawrence.
Note: Want to know more about how St. Lawrence Seminary High School tackles homesickness? Check out our St. Lawrence blog for advice and news!
St. Lawrence Seminary High School is a place for students to discover their talents and their passions while receiving a well-rounded, quality education. When you ask students if they are glad that they chose to attend our school, the short answer is YES! Here are some reasons why St. Lawrence high school students are happy with the choice they made in attending St. Lawrence.
When did you realize you made the right decision to attend SLS?
Student 1 "I realized I made the right decision my sophomore year. I started to learn that there are so many things that I have [at SLS] that wouldn't have at other schools. I also realized that the connections I made with my classmates are connections I couldn't make anywhere else. Once I learned that, I knew I made the right decision".
Student 2 "It was not until the middle of my junior year here that I realized SLS was the right school for me. Of course, my years here as an underclassmen were extremely fun, but my junior year was a wake-up call for me. If I had not gone to SLS, I would be a totally different person. I would not have gone through all the trials and tribulations of waking up early on Saturdays for a forensics meets or have met the classmates I am able to call my brothers. The one aspect of SLS that kept me going was the community. Over the years, I have picked up small snippets of so many different languages and cultures. The friendships I have made are unforgettable".
What would you say to a student who was thinking about attending St. Lawrence?
Student 1 "I think the biggest thing that I would have missed out on is the diversity of SLS. Here the school is made up of people from all over the place. I would tell student looking at SLS that if they are not sure, to give it a year: To come for your freshman year and think about your high school future after that."
Student 2 "It is definitely a hard decision to make because it can affect the rest of one's academic career. If there is a student out there wondering whether this school is the right school for him, I suggest he at least try a year here. I would say that St. Lawrence is a school that offers intangibles that is hard to find and are hard to explain, so the best thing to do to find out more is to try it for yourself."
St. Lawrence Seminary High School is special because of the students and the men they become when they graduate. Our mission is to provide a residential and holistic college preparatory education in a Catholic community, and we strive to make our students better brothers, sons, students, and men of faith.
---
If you are interested in learning more about St. Lawrence's holistic approach to a college preparatory education, we encourage you to download the Parent's Guide to St. Lawrence Seminary High School.