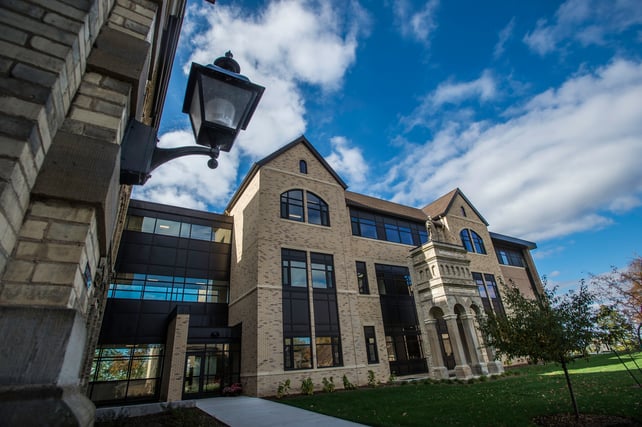 Trying to figure out what's best for ourselves can be complicated. This can be especially true when the decisions we make will affect more than just ourselves. When it comes to knowing if a school will be the best fit for your child, the decision can be scary and possibly unclear. This can be especially true for parents if they (or their child) is considering a boarding school for high school.
Keeping an open mind and obtaining as much information as possible helps the family and prospective student get a better sense if the boarding school will be a good fit for them. Because just like most things, attending a boarding school for high school will have both pros and cons.
Read on for some things to think about as you consider sending your child to boarding school.
Boarding schools provide a sense of community with both peers and teachers.
Being able to get a study group together with friends and/or faculty one evening before a big test or class presentation is a great convenience not found in most traditional day schools. At most boarding schools, the faculty and staff are available to the students at "odd" hours compared to other schools.
Classmates are also available as not only an academic resource but a recreational one as well. Being able to go play sports, get some food, or just meet casually allows your child to gain social maturity and independence. The friends one has at boarding school become a second family, as they are together for a variety of different life experiences.
At St. Lawrence Seminary, students are placed in fraternities of 10-12 boys that are balanced on grade, culture and compatibility. These fraternities forge lifelong friendships. Learn more about our fraternities and how we develop social skills.
This sense of community is a huge consideration when trying to decide of a boarding school is right for you. Is unity important? Are you seeking stronger relationships than those typically formed at a day school? These are questions to consider.
Boarding schools help students learn to manage their own time.
Learning time management contributes to the maturity of a student, as students at a boarding school needs to manage their academics, co-curricular, and personal schedules. This is part of the growth in independence that many experience during their time at a boarding school.
The time-management is a benefit both for boys who currently manage their time well as those who need more experience. At St. Lawrence Seminary, we adopt a guided "sink or swim" approach – boys are expected to learn how best to manage their own time, but they're empowered with a support network as they're learning.
Get More Info: Check out what a day in the life is like for a student at St. Lawrence Seminary High School.
The boarding school experience creates independant, critical adults.
Transitioning into a boarding school can be tough, and sacrifices will be made. Whether it is missing a sibling's birthday or another family function, being away at a boarding school does mean that there's the potential for missing out on important events. These are the necessary choices that boys at a boarding school will face. However, this is also practice for the "real world" beyond high school, when boys will have to make choices. Most of our students report that the distance helps strengthen and appreciate their relationship with their family back at home.
For both parents and students, being supportive of each other help make the transition to boarding school easier. Parents, believe it or not, will also go through a kind of homesickness, just like their child might. The child might also call home after a bad day and wonder if they made the right decision. But the families that support each other and the decision to try boarding school for at least a year seem to be more successful. Understanding that both parties will be making sacrifices and supporting each other is key. At the end, many of our students find that this challenging period empowered them to roll with the punches of life and are better prepared for living away from home at college.
Is boarding school the right fit for you and your child? Here at St. Lawrence Seminary, we can't make that decision for you. Our best advice is to research and speak with those who have gone through the process. Visit the school, read the promotional material, speak to families of current students and get informed! The decision is tough, but it can have a great impact on your child as well as the rest of the family.
So don't be afraid to find the best fit for you and your child even if that means looking at a school that is out of the ordinary.
For more information about St. Lawrence Seminary and the benefits of a Catholic education, download our FREE Parent's Guide.
---
St. Lawrence Seminary is an all boys Catholic boarding school located in Mt. Calvary, Wisconsin. We welcome students from Minnesota, Illinois and across the United States. Inspired by the Gospel of Jesus Christ and the example of St. Francis of Assisi, St. Lawrence Seminary provides a residential college preparatory education in a living Catholic community nurturing mature, well-rounded men of faith. See if St. Lawrence is right for you and your son.