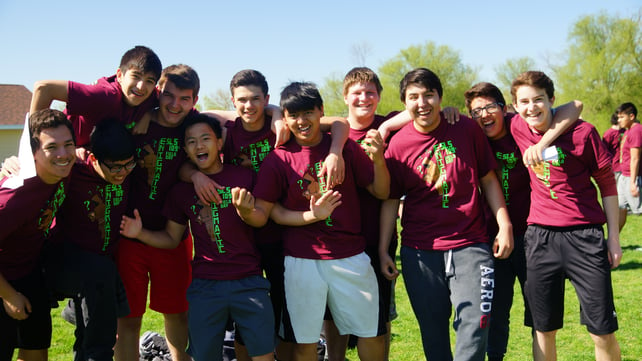 Homesickness is an interesting "disease" because it's common, it's predictable, it's natural, and while it's not entirely preventable, it is curable.
When any adolescent boys come to St. Lawrence Seminary, not only are they starting high school but they are also living in a dormitory setting, and they are not in the same daily contact with their families as they have been in the past.
Adding all these factors together makes homesickness an ailment that is not uncommon.
But students and parents need not worry. St. Lawrence Seminary attacks homesickness head-on.
Each freshman takes a Freshman Guidance class, and in that class, the official homesickness cure is taught almost as a mantra. The homesickness cure, as any freshman at SLS could easily repeat, is:
Stay busy.

Talk about it.

Give it time.
This mantra has been taught to freshmen for over 40 years, and the former dorm-supervisor who formulated this wording claims that no student who has actually put these precepts into practice has ever stayed overwhelmingly homesick for long.
SLS students should stay busy to avoid homesickness.
Freshmen are helped to follow this first dictum by participating in a wide variety of activities available on and off campus. For example, a week doesn't go by without some special activities: the freshmen visit a local lakeside park during the first week of school. There are soccer matches, the famous Hilltopper cross-country invitational, and a Labor Day cookout and games.
Throughout the year, there are various celebrations like Lunar New Year, Cultural Food Festival, talent shows, movies shown in the auditorium, and visits from traveling cultural performers like Chinese acrobats or African drummers. During Spirit Week, there are activities like various "dress up" days, pizza making, pumpkin carving as well as extensive activities and competitions that go on during Winter Carnival. And in the spring, Field Day keeps everyone pleasantly occupied. There are trips to the mall and special trips to various activities like a Civil War reenactment and an NBA basketball game
On a day-to-day basis though, there are always recurring activities like intramural and varsity sports, morning prayer, evening prayer, Mass, work crews, classes, study halls, etc. Various clubs cater to specialized interests like the international club, the math club, etc. Students can also stay busy using the game room, gym, fitness center, canteen, tennis courts, computer lab, TV rooms, and the 150-acre campus as a whole.
SLS students need to talk about their feelings of homesickness.
The second step in the homesickness cure is to talk about it.
Each new student becomes a member of a fraternity – a group of 10-12 students (two or three students from each class). The seniors in the fraternity take on a special role in guiding the freshmen both by advice and by example, and each freshman has a senior sponsor. The fraternities eat two meals a day together, sit together for prayer, and compete together during school wide competitions like Field Day.
The fraternity has a faculty member assigned to mentor the students. In the beginning of the year, there is a special emphasis on mentoring the freshmen – they meet with their faculty mentor almost every day during the first week. But all year long, the faculty and staff take an active role in observing how the new students are fitting in.
So there are numerous people, from peers to adults, that freshmen can talk to about their struggles with homesickness. And during the Weekend Visit weekend, parents of prospective new students meet other parents whose sons have been at St. Lawrence and get some advice about how to handle the situations that come up.
SLS students need to be patient and give homesickness a chance to dwindle.
The last step in conquering feelings of homesickness is one in which patience matters. There are times when students think that he has determined after a day or two that St. Lawrence is not right for him – but after some time, he's decided to follow through with his SLS education.
For example, a mother dropped by unannounced to bring her son home, saying that he called her asking to leave. After a meeting with the dean of students, the parent, and the boy, the student decided to try it for a few more days. Not only did that student stick with it and graduate four years later, but he continued in the seminary system and was eventually ordained a priest.
Students also have access to phones to call their family, and students whose families live close enough often attend Sunday Mass with their sons and then spend the day with them. Moreover, during almost every month, there are opportunities for students to visit home.
Making the decision to attending a boarding school for high school can be a bittersweet decision for both students and parents. But there are many testimonials that speak to the benefits of a St. Lawrence Seminary High School education, and with a little grit and determination, every student has the opportunity to successfully thrive at SLS.
---
If you are interested in sending your son to St. Lawrence Seminary High School, we invite you to learn a little bit more about the admissions process and download our free guide regarding The Weekend Visit Experience.