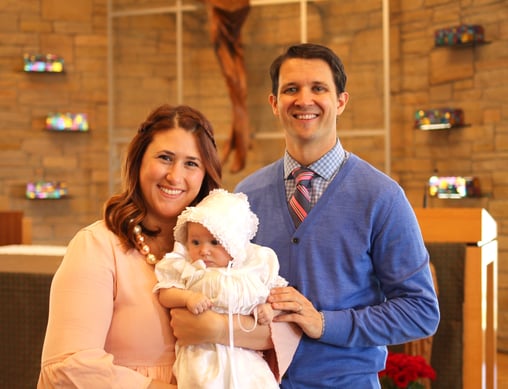 St. Lawrence Seminary High School Alumni are present in nearly every state across the U.S., in many countries around the world and hold a long list of professions. They continue to be the living legacy of their experience at SLS and can easily testify to the benefits of a boarding school. Be they priests, brothers, doctors, lawyers, computer technicians, researchers, salesmen, accountants, actors, artists, teachers, military servicemen or any number of other career choices, they carry with them the Calvary Spirit and the values learned at SLS. As husbands, fathers and men of faith, they bring to their respective families and circumstances that spirit nurtured in the SLS experience.
Read on for a special look into the life of a St. Lawrence Seminary Alumnus, their experience as a student and how that shaped their life after graduation.
Andrew Welhouse (Class of 2000) has worked in the world of politics for years. He has worked with members of the Wisconsin State Assembly in Madison, WI and was active in the Republican Party in Illinois. He currently resides in Utah with his wife Jill and their daughter.
Q. What led you to attend SLS? Were you excited, hesitant, etc?
I heard about SLS from family - two of my uncles attended and my grandparents were pretty involved in the Parents' Guild. I made a weekend visit. I suppose I was hesitant [to attend] and I remember being deathly homesick the first week. The phone booth next to the refectory could have a commemorative plaque for "Most Tears Shed in a Single Phone Call" from me talking to my dad the first Thursday night of classes. Mr. Lou Wappel's Freshman Guidance rules of "stay busy, talk about it, give it time" were very helpful - so much so that I still remember them 20 years later.
Note: Want to know more about how St. Lawrence Seminary tackles homesickness, check out our blog about the Freshman Guidance class rules.
Q. What is a valuable lesson or skill you learned at SLS?
There are too many to list, but to highlight a few things:
The Forensics Program and the classes taught by Fr. Gary and Mr. Krieg honed my love of politics, which directly led to my career in government and politics, which I love to this day.

Cross Country and Track started my lifelong love of running - I have completed 50 races and counting to date including 13 half marathons and 2 full marathons.

The social skills we had to memorize and practice

absolutely came in handy throughout life.
The most important lesson, I learned from being around so many different cultures, languages, backgrounds, people from different parts of the world. I learned that it truly doesn't matter what color a person's skin is. At St. Lawrence I learned this firsthand by living it. A Vietnamese guy from New Orleans cut my hair. An Indian guy from Saudi Arabia ended up being one of my lifelong friends. A Mexican guy from the south side of Chicago was on my intramural basketball team and today he's the godfather to my daughter. Treating people right regardless of their skin color is an important lesson, and at St. Lawrence it isn't just taught, it's lived.
Q. How did the life skills you learned at SLS help prepare you for fatherhood or adulthood?
Adulthood is an interesting one, because SLS for me - moving away from home, not seeing my family every day - was the moment I realized I wasn't in my cocoon any more. That's a lot to put on a 14-year-old, but the support system at SLS is outstanding and it helps each boy take that critical step in his own way.
Fatherhood, I'm learning, is a whole different question and answer. I can think of three important lessons I'm trying to keep front-of-mind during fatherhood that I first learned at SLS:
Actions matter. In that they have consequences, yes, but more importantly that the action itself matters more than the intentions you had in mind.

Keep your sense of humor. I can think of so many times at SLS where I laughed past the point of tears, past the point of control. There were so many good people there, both my fellow classmates and the faculty/staff.

Faith first. And again, the actions and practice of faith, not just the intention. I remember going home for the first break and the mass at home felt so different from the mass at SLS, where the environment is boisterous, the homilies have real heart, and the songs are sung at the top of our lungs.
I guess most important lesson I'm taking into fatherhood is that if we ever have a son, that kid is going to St. Lawrence for sure.
Q. How did your spiritual growth learned at SLS help you in becoming a better husband, father and man?
The husband part is an interesting question for me, because my wife isn't Catholic. I know a bunch of my SLS brothers who have non-Catholic wives as well, and in an increasingly secular and non-religious country. I know that my own religion - honed at SLS - helps me remember the importance of appreciation. I'll be on a run and see a beautiful sunset or mountain or landscape, and I'll say a quick prayer of appreciation. I did that for the first time at a Cross Country practice at SLS. Appreciation, as a husband, is a 100% critical skill.
As a father, I'm so glad and excited to share my faith with my baby daughter. I take her with me to mass on Sundays and I'm looking forward to seeing those seeds of faith grow in her.
I'm so proud that SLS has been a part of both my marriage (Fr. Gary Wegner officiated), and our baby (SLS brother Jose Navarro served as godfather at her baptism), and SLS alumni for uncles, unofficial uncles, and her grandfather Dr. Welhouse!
Q. Were there any specific individual people during your time at SLS who helped teach you how to become a better man?
I bet I could rattle off how every single teacher, faculty member, spiritual advisor, and classmate taught me one lesson or another that I still remember today. In addition to the ones already mentioned:
Fr. Dennis - Had high expectations of all students, but when he spoke, you listened.

Mr. Bartel - Lead by example. He was smart, strong, and always had a wry smile on his face.

Mr. Lou - He encouraged us to experience a wide range of different books, music, ideas, history.

Of course my father, Dr. Welhouse. But I was learning lessons from him for years before the rest of my classmates did!
Instead of rounding out the full list of all the teachers, classmates and faculty that I came to know, I'll share a story that speaks to everyone at St. Lawrence Seminary and the kind of environment and spirit that's fostered there:
When I was in middle school, well before my time at SLS began, my mom was diagnosed with colon cancer. She came on the Weekend Visit with me, but passed away before I enrolled as a freshman. Years later, after I graduated from St. Lawrence, I was talking with a fellow alumnus who was a couple years ahead of me. I don't remember how it came about, but he told me "Oh yeah, I remember you, I remember the students saying prayers in the chapel for your mother's health when you were still a potential student." That touched me, even so far after the fact. I wasn't even a committed future student at the time, just one of many students on a Weekend Visit. All the same, those 200 people I had never met, for no reason other than to be kind, were with me in spirit at a painful moment, praying for me and my family.
---